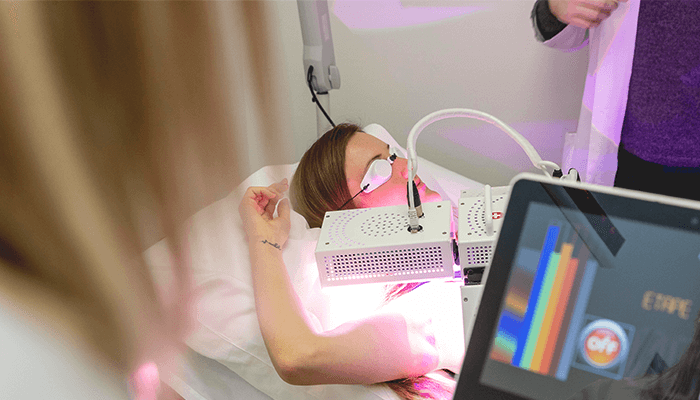 The radiotherapy department at Hôpital de La Tour now boasts low-level light therapy (LLLT) equipment. This new treatment helps to relieve some side effects caused by radiotherapy, including skin lesions (radiation dermatitis) and the painful inflammation of the mucous membrane lining in the mouth (mucositis).
Low-level light therapy involves applying a laser with an exact wavelength to areas of the body that have been exposed to radiotherapy as part of preventive or curative treatment. This proven technique is already used in dermatology and sports medicine, and now Hôpital de La Tour is proud to be the first private facility in the Swiss region of Romandy to use this innovative therapy in the field of oncology. Doctors Thomas Breuneval and Ambroise Champion from our radiotherapy department are highly-skilled in treating patients with this laser therapy.
Low-level light therapy is particularly indicated for patients with breast cancer and ENT cancer since they are more likely to develop dermatitis and mucositis from radiotherapy treatment. These common side effects of radiotherapy cause, in the case of dermatitis, skin redness that looks like sunburn and can sometimes develop into wounds and, in the case of oral mucositis (also caused by chemotherapy), dry mouth and painful mouth ulcers, a condition called aphthous stomatitis. Laser light therapy is currently the only effective treatment for aphthous stomatitis. In addition, recent studies suggest that low-level light therapy stimulates cells in the salivary glands, which increases the flow of saliva and helps with dry mouth.
Therapy is usually delivered at the same time as radiotherapy and can even be indicated before the start of sessions as preventive treatment against side effects. It has no contraindications, is completely pain-free and takes around ten minutes.
Low-level light therapy is an innovative solution to help ease the pain of cancer patients and improve their well-being. Offering such advanced treatment at Hôpital de La Tour means that we can give people who entrust us with their health, or that of a loved one, the best possible quality of life.