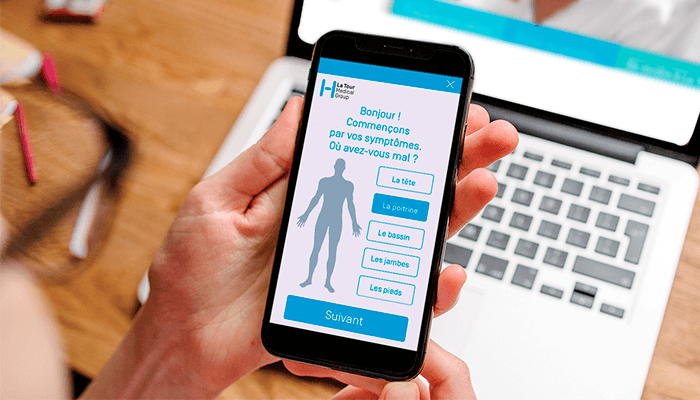 Using the advanced drnow.ch e-platform, Hôpital de La Tour can now provide treatment for approximately 40 symptoms without you ever having to leave your home. The platform offers a wide range of features, including comprehensive guidelines for anyone who thinks they have the coronavirus as well as the monitoring of quarantined patients who have visited its triage centre.
Hôpital de La Tour is pursuing this patient-centred strategy while researching the benefits of this innovative system. It provides e-health care for patients with mild symptoms, so that these patients do not need to visit the emergency department. This instant, low-cost home treatment service enhances patient experience while helping to ease the strain on the health care system. drnow.ch means that the emergency department at Hôpital de La Tour can concentrate on patients who need hospital services. This brand-new resource minimises patient waiting times, frees up emergency care services and ensures care teams can focus on treating patients while reducing the risk of spreading coronavirus. During this pandemic, drnow.ch offers you an additional medical service alongside your trusted primary care physician. Due to the integrated follow-up process, drnow.ch is also able to support Hôpital de La Tour with the monitoring of patients who are in quarantine after testing positive for coronavirus. The highly-skilled doctors at drnow.ch monitor patients who test positive for COVID-19 at the triage centre, in line with procedures issued by Hôpital de La Tour.
Find out more about this new partnership in the press release published by drnow.ch and Hôpital de La Tour on 16 March 2020 (in French).